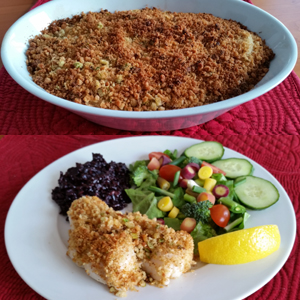 This recipe was inspired by thoughts of fresh scallop fishing season in Maine that began December 1st.
I love baked scallops but find in restaurants they are seldom gluten-free. The delicate taste of scallops can easily be covered up with too many flavors, so I limit the ingredients in order to complement the flavor of the shellfish.
Ingredients
1 pound fresh or frozen (thawed) scallops, dried, and side muscle removed
3 tablespoons olive oil, divided
2 tablespoons of white wine (substitute with milk or fish broth)
1 cup gluten free panko breadcrumbs (seasoned or not)
2 scallions finely chopped
1 stalk celery (with some leaves if possible) finely chopped
Garlic powder
Black pepper
Fresh lemon slices
Heat the oven to 400° F.
Spread one tablespoon of the olive oil in a shallow baking dish, then place the scallops on top of it in a single layer. Sprinkle the two tablespoons of white wine over the top of the scallops, then some garlic powder and black pepper to taste. Be careful not to overdo.
In a medium fry pan sauté the chopped scallions and celery in two tablespoons of olive oil until just wilted (1 – 2 minutes). Add one cup of panko breadcrumbs and sauté until the crumbs begin to darken and the olive oil has been evenly distributed.
Spoon the crumbs over the top of the scallops and bake at 400° for 20 minutes. The topping will be browned. Serve with your favorite salad and rice. I used black rice to add some color to the plate. Sweet potato would also make a nice accompaniment to the scallops.