Fresh baby greens are now available at farmers' markets as the growing season (in Maine) gets started and wonderful fruits from our southern friends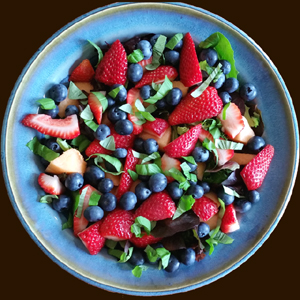 appear in local grocery stores. The two make a wonderful combination. Plus a green salad with fruit kills two birds with one stone, so to speak. No need to make a fruit salad too.
You can substitute other fruits if you don't have these and you can adjust the mounts to what you want. This makes a wonderful spring or summer salad for entertaining, and it is gluten-free. Here is the recipe which will serve about six.
6 cups baby lettuce, washed and dried
1 cup cantaloupe cut into bite sized pieces
1 cup fresh strawberries, washed, hulled, and cut up
1 cup fresh blueberries, washed and dried
5-6 leaves of fresh basil cut into thin strips (or fresh mint)
Dressing
2 tablespoons raspberry vinegar (I couldn't find this item so I used maple vinegar, but you can substitute apple cider vinegar or some other vinegar just as well).
4 tablespoons olive oil
2 tablespoons orange juice
Pinch of sea salt