No chopping with this salad! The color and freshness provide a little brightness in winter.  Make just enough for the number of people present and don't count on leftovers. Or make yourself a single salad like the one in the photo. I was stunned by the wonderful taste and texture of this simple salad when it was  served during the holidays.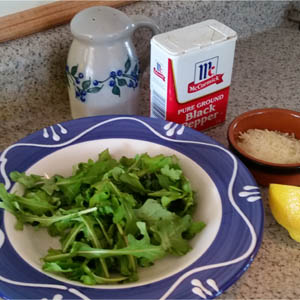 Ingredients
Enough Arugula for 6 people
¼ cup olive oil
½ cup lemon juice (fresh is best)
½ cup grated Parmesan cheese
Salt & pepper to taste
Just before sitting down to a meal put the washed Arugula in a bowl. In a measuring cup, stir the olive oil, lemon juice, salt & pepper. Pour over the greens and sprinkle with Parmesan.  Although it isn't needed, I have put some fresh avocado on top of this salad and it is quite yummy.
This dressing lends itself well to several variations of lettuces and cheeses.