It's a good time of year to focus on things that are green – like salads. I read recently that most prepared salad dressings that we buy in the store have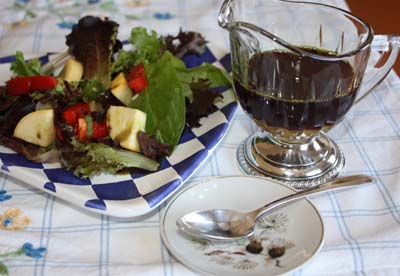 ingredients that are not good for us. What next?!!
Pumpkin and apples seem to complement each other, so when I found Pumpkin Seed Oil (from the Styrian area of Austria) in my search for alternatives to prepared, bottled salad dressings, I thought this might make a nice combo. I was so pleasantly surprised with the taste that I was able to overlook the cost of the oil, $14.99 for 8.5 oz. The ease of preparation also added great value.
I combined the ingredients in a small cream pitcher. Though cruets look lovely they are so hard to clean — even in the dishwasher. This vinaigrette can easily be stirred, not shaken, and spooned over the salad to one's liking. Bottled salad dressings seem to flow out so fast.
Spicy salad dressings mask the delicate flavors of veggies, where this one enhances them.
Recipe
Pour 3 Tablespoons of apple cider vinegar into a small pitcher or cruet and add ½ Cup Pumpkin Seed Oil. Spoon lightly over a mixed green salad. Enjoy!