This recipe comes from Jennifer and is wonderful for dressing up a simple salad of a few ingredients. She used spinach, avocado, and cantaloupe for this salad, and the tangy flavors of the dressing give it a unique and interesting flavor. Plus the colors jazz it up and give it visual appeal — an important aspect of any meal.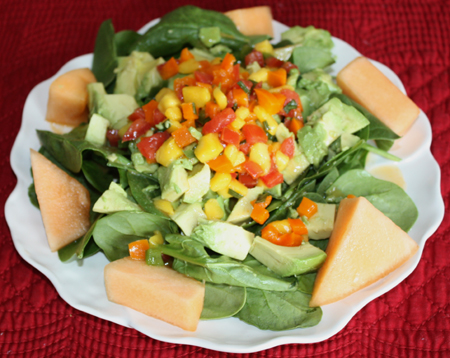 1 mango, peeled and chopped
1 jalapeño pepper, seeded and chopped finely
3 plum tomatoes, seeded and chopped
1/2 sweet orange pepper, seeded and chopped
4 tbsp Chives, chopped finely
Juice and zest of one lime
2 tbsp. grape seed oil
1/2 tsp kosher salt
Mix above ingredients in a bowl. Leave for 30 minutes at room temperature to allow flavors to blend. Serve with tortilla chips or spoon over a bed of spinach and add sliced avocado.