Pets
A comforting gift for a special companion
Daytona, the Dachshund, is enjoying the warmth and companionship of a Maine Warmers' Cozy Sheep heating pad.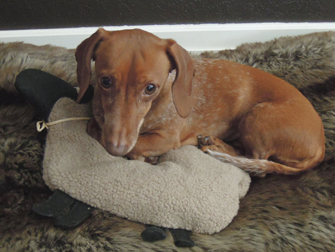 Does your pet use a Maine Warmer?
Email a photo of your pet with a Maine Warmer and we'll post it on this page.
Dogs and cats with arthritis enjoy the heat as it helps improve flexibility.
Heat is one of the oldest home remedies for a variety of ailments. It's the perfect get well gift for a pet.
Washable cover
Portable – no wires as with conventional electric heating pads
Safe — No worry of overheating, as with an electric heating pad.
Our unique designs can be used over and over again for either heat or cold therapy.
One customer told us that on winter mornings, her dog would sit and shiver in front of her until she heated up the Back Warmer and laid it on his bed.
Another customer ordered a couple of Back Warmers to use for his horses. He wanted to warm the bridle bits before placing them in the horses' mouths on bitter winter days in Montana.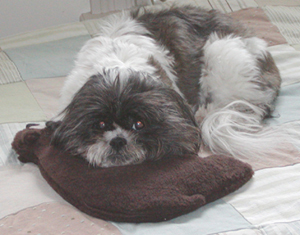 Our own Hot Dog and Cozy Cat provide comforting companionship with the following benefits:
No shedding
No claws
No litter boxes or pooper-scoopers
No vet bills
No messy pet food
No allergic reactions
Some dogs and cats love the warmth and comfort of a Maine Warmer, while others think they have found a bag of popped corn and will eat it.
Check our Back Warmer Sale page for savings on warmers for pets.
Free shipping on orders of $100 or more!
If shipping is more than $11.00 (especially in Western states) please call us on our toll free number for savings with US Priority Flatrate boxes. We'll be happy to help you.
With a few exceptions for holidays or for items out of stock, we ship orders on the next business day via UPS Ground or US Mail.
888-835-7485